Back to all posts
Posted on
Kindergarten Interviews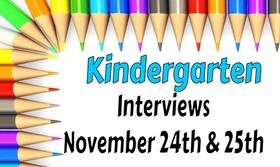 Kindergarten Parent Teacher Conferences will take place throughout the day on November 19 and after school on November 24 and 25. Our conferences will be held either via Google Meet or telephone call as we continue to work together to keep everyone safe. If you have any questions please contact your child's teacher.
In our online booking system, you may choose to have your conference via Telephone or Google Meet.  Regardless of the format you choose, you will book an interview time for each child within the program. All interviews will be 10 minutes long, please keep this in mind as the teacher will need to end the meeting at the 10 minute mark to transition to the next meeting.  Before making your decision on your conference format, here are some considerations:
Telephone Conference
You will need to provide a phone number at which you can be reached at, for your scheduled time.
The teacher will be calling you.  Please be aware that the number may appear as Blocked Caller, Private Number, etc.
​​​​​​​If you are unable to answer your phone at your scheduled time, the teacher will be unable to call you at a later time due to the scheduling of other interviews.
Please find a quiet spot without distractions for the telephone conversation to occur. Students do not need to be present. 
Google Meet Conference
When you receive your online booking confirmation email from School Interviews, the teacher specific meeting link will be included in the email.  Please keep this email as you will need it to access your conference. Please check your spam folder if you don't see it as it may be directed there.
​​​​​​​If you will be using a laptop, desktop, or chromebook, you DO NOT need a Google account to access the Meet.  Simply click the link in your email at the pre-booked time. NOTE: Using Google Chrome works best.
​​​​​​​Tablet and Phone users MUST download the Google Meet App available for iPhone and Android devices.  Once you have the app, you will need to login using a Google account.  If you do not have a Google account, you can create one or you can login using your child's school email.  If you need your child's login information, please email lalhoffmann@cesd73.ca
​​​​​​​Please find a quiet spot without distractions for the Google Meet conversation to occur. Students do not need to be present. 
If there are any connection issues during your Google Meet, the teacher will call you using the number provided at the time of booking.
Please do not click the meeting link until it is your scheduled time.  
Booking Information
The LINK: 
https://www.schoolinterviews.ca/code/cjxut

The booking link can also be found on our school website: www.johnwilsonschool.ca
If you have any questions please don't hesitate to telephone the school at 403-227-3292. We are looking forward to connecting with our families and sharing a conversation about your child(ren) and all their accomplishments during our November interviews!
Respectfully,
Angela Warke                Georgie Perigny