Back to all posts
Posted on
9th Annual Holiday Food Drive!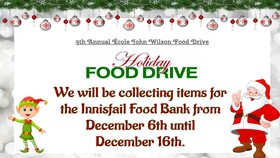 Dear École John Wilson Elementary Families:
Our School will be holding a food drive beginning December 6th, through December 17th 2021. This food drive will help support our local Innisfail Food Bank. This is an excellent chance to make a difference in the lives of many as well as making a significant impact on our community this holiday season.
Did you know that our Innisfail Families who are in need of the food bank program can only access it every five to six weeks?
You may send your donations of non-perishable food items and/or personal hygiene products in to the school with your child(ren), beginning December 7th. All donations collected will be delivered to the Innisfail Food Bank on December 16, 2020.
Most needed items: Additional items needed:
-Tuna                     -Canned Meats              -Shampoo/Conditioner
-Peanut Butter        -Baking Goods               -Soap/Lotion
-Pasta Products       -Soups                          -Toothbrushes/Paste/Floss
-Spaghetti Sauce     -Condiments                  -Deodorant
-Canned Fruit          -Cereals                        -Shaving Cream/Razors
-Canned Vegetables -Flour                           -Laundry detergent
-Rice                       -Dish Soap
*Please do not send rusty, unlabeled/expired, open, used items or perishable items.