Back to all posts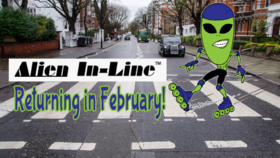 Alien In-Line is Back!

We are excited to share that we are once again able to provide in-line skating as part of
our Physical Education programming! Alien In-Line (alieninline.com) will be coming to
ÉJWES from February 1-17, 2023. Each class will receive three sessions of
approximately 60 minutes in duration with a qualified instructor from Alien In-Line. The
instructors focus on skill development and safety with the students.
The following message
is shared from Alien In-Line in regards to their programming:
Many basic and advanced skating skills are taught during the Alien In-Line program.
Skills introduced will vary based on student's abilities and may include; standing on
skates/basic position, simple forward motion, several ways to stop, several ways to
turn, safe skating strategies, road/pathway etiquette and non-aerial jumping.
Instruction time is followed by games chosen to use the skills in a more active
situation. Some sessions may end with a period of free skating time, often
accompanied by music.

Alien In-Line provides protective gear for each student (knee pads, elbow pads, and wrist
guards). Certified helmets are also required and it is requested that students provide
their own (bicycle, skiing or skating helmets without a face/chin guard are acceptable). If
you do not have a certified helmet they will provide one for you. Please note that they do
NOT treat their helmets with anti-lice pesticides which is why it is strongly suggested to
send your child's own helmet. Please have your child wear comfortable clothing on skating
days (not too tight and not too baggy). A note with the days your child skates will be
communicated in his/her agenda. Skirts or dresses should be avoided. All students should
have clean, dry socks so please pack an extra pair in your child's backpack just in case!
Please fill out the online consent form for your child to participate. The form will be
coming to your email soon. There is no cost for your child to take part in this valuable
program thanks to your support of our annual Read-A-Thon. In order for your child to
participate in in-line skating, the consent form must be completed by January 31, 2023
please. If you have any questions regarding the program please do not hesitate to contact
the school at 403-227-3292.
Respectfully,
ÉJWES Staff