Back to all posts
Posted on
Collecting for the Innisfail Christmas Bureau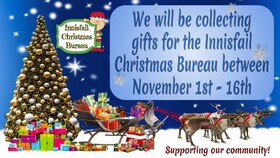 At ÉJWES we feel it is important to teach the students the value of giving back to our community as responsible citizens. One local organization that ÉJWES has supported each year is the Innisfail Christmas Bureau.
If you are able to contribute, there is a list of suggestions of much needed items, but all donations are appreciated.
 Donations of new small toys such as Barbie, dolls, action figures, and dinky cars/trucks, as well as craft supplies, books, socks, mitts, toques, stuffed animals, games and puzzles.
Homerooms will collect items starting Wednesday, November 1st to Friday, November 16th.
Here is all of the info for families who need to know to register for the 2021 Christmas Season:
Location: Innisfail Coop Mall (#14, 4303-50 Street) -Old Furniture Store
Registration: Mondays 7-8:30 pm and Wednesdays 2-3:30pm
First registration will be November 15, 2021 at 7:00pm.
Last registration will be December 14, 2021 at 2:00 pm.
What to bring: AHC, last bank statement, proof of address and income.
**Please note the following changes due to COVID**
-Only one person to attend registration AND pick up - no kids. You will
 be asked to wait in the hall until it is your turn.
-Masks will be required, and you will be asked to use hand sanitizer 
upon entering.