Back to all posts
Posted on
Inclement Weather Policy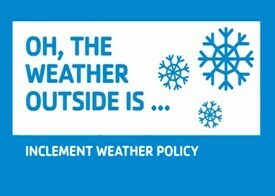 With the safety of students, staff and parents our highest priority, Chinook's Edge has developed an Inclement Weather procedure - Administrative Procedure (AP 1-13) (please click on the link to read the AP in its entirety). This means school buses will not run and/or school closures may be in effect to involve a single school, a community of schools or the entire school division if weather necessitates an Inclement Weather day.
There are essentially three types of travel days that occur in our Division: Green (all clear), Yellow (use caution), and Red (unsafe).
Click to read our Key Priorities one-pager
Please ensure your contact information, which you provided to your child's school, is accurate as this is how you will be notified of an Inclement Weather Day.
Please click here to get more specifics on specific days and how you will be notified.