Back to all posts
Posted on
Innisfail Growers Fundraiser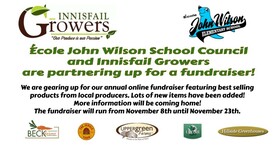 Together with our ÉJWES School Council, we will be providing an opportunity to purchase locally grown and made items through Innisfail Growers again this year! We are offering a great selection of their best selling items (we have added some new ones!). You might even consider putting together a basket of items as a gift! This fundraiser will run from November 8th until November 23rd so we can have your orders back to you before the holiday break. 
All orders will be completed online (order forms/payments will not be accepted at the school). Please find attached a paper order form for you to use as family and friends place an order for their favourite items! With our online payment system please note that only parents/guardians are able to place an order. We ask that you keep track of your orders on the paper form and all items will be entered as one large order on your account. Therefore, you will need to collect the payments from all orders directly. Please use the following link to place your order:
https://www.studentquickpay.com/chinook/MyAccount/Main.aspx
We will be organizing pick up times during the first part of December. One family member will come during a designated time to pick your package up and you will use your order form to distribute it to family and friends.  Specific details on this will follow at a later date.
Your participation is completely voluntary but even the smallest amounts raised help to support many great extra experiences for our students. 
Why do we fundraise?
Proceeds of this fundraiser will be used toward: 

A NEW Playground!! As you know we are working towards the purchase of a new playground to replace the one removed over the summer
Supplementing the costs of field trips to reduce the amount each family would pay for their child(ren) to participate (these may include virtual options this year)
Our School Council works diligently to support the school through various fundraising opportunities throughout the year. Thank-you for your continued support! Please don't hesitate to contact the school if you need assistance or have any questions- 403-227-3292.
Yours in Education, 
            Melissa Dudley                  Angela Warke                Georgie Perigny  
      EJWES School Council                  Principal                     Vice-Principal
Click here to access the corrected order form.