Back to all posts
Posted on
Kindergarten and Pre-K Registration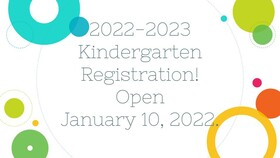 Registration for the 2022-2023 school year will open on January 10, 2022.
Welcome to Kindergarten!
For more information on CESD's Kindergarten programming, and to register, click here.
Pre-K at ÉJWES
Learning through Play
We are now accepting applications for children to attend our Pre-K program, with a charge of $200 month.
There is no charge for eligible PUF children to attend the program.
Our Pre-Kindergarten program provides a rich learning environment for children who have been identified as having an intervention based educational need or who are English as a Second Language (ESL) learners.
More Information
♥ Class runs 3 hour sessions                             ♥ Open to children 3 & 4
♥ 3 days per week (Tuesday-Thursday)           ♥ Addition of some Mondays
♥ Staff include a certified teacher and educational assistants
♥ Additional support is provided by our Rehabilitation Support Team - Speech and Language and Occupational Therapy 
♥ Click here for more information.
To apply for our Pre-K program, please call the school at 403-227-3292.
Kindergarten at ÉJWES
Our Kindergarten program is  offered in English and French Enrichment.
We are a play based Kindergarten program. We strive to learn our letters, sounds and numbers through hands on centers and activities. Our program includes Indigenous education lessons. Each classroom is connected to our amazing centres room where we focus on dramatic play, gross motor skills, socialization and problem solving. We offer extensive learning supports and opportunities for technology. Our students do daily physical activity and participate in our Fine Arts program.
We can't wait for you to come and join us for some fun!
About our Program
♥ Our Kindergarten program is a comprehensive 475 hour program.
♥ Students attend school for a full day.
♥ Programs run Monday/Wednesday or Tuesday/Thursday with the occasional Friday. 

♥ Our French Enrichment option is included in our Monday/Wednesday program.
♥ Click here for more information.