Back to all posts
Posted on
Parent Teacher Conferences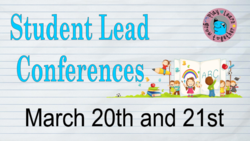 March 6, 2023
Dear ÉJWES Parent(s) and Guardian(s),
Our upcoming Parent Teacher Conferences will take place:
During the day on Friday, March 17 for Kindergarten students only 
On Monday, March 20 and Tuesday, March 21 for Kindergarten-Grade 4 students from 3:30-6:30pm 
Our March interviews will be in person student-led conferences and we will not be using the online booking system. Watch for further information and specific details from your child's teacher. We are excited to share that our Music and Art rooms will be open during the conferences so please feel free to pop in, see the spaces and say hello!  Please use the main doors at John Wilson to enter the school when you arrive.
As CESD has moved to having two report cards this year, our next report card will come home at the end of June. Please feel free to ask your child's teacher any questions you have as we head into the last reporting term. We appreciate working together as a home/school team so our students are able to see their growth and successes and celebrate them with you!   
If you have any questions please don't hesitate to telephone the school at 403-227-3292 or ask your child's teacher directly. We are looking forward to connecting with our families and sharing a conversation about your child(ren) and their accomplishments during our second  set of conferences this school year! 
Yours in education,
École John Wilson Elementary Staff